Now you can buy the album in your preferred format:
DELUXE EDITION

SOLD OUT

LIMITED EDITION
iTUNES EXCLUSIVE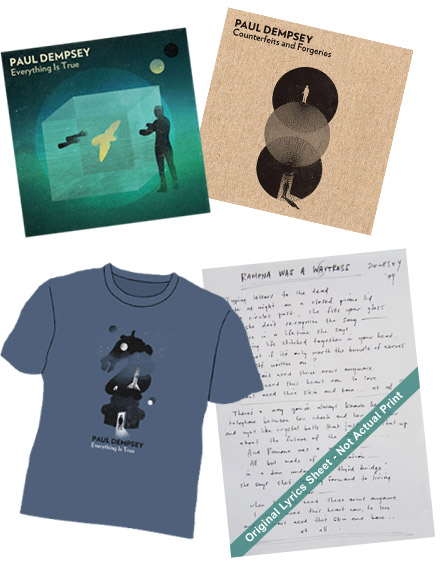 DELUXE EDITION - SOLD OUT
The deluxe edition has SOLD OUT and will not be made available in the future. Thanks for your support.
The Deluxe Edition includes:
LIMITED EDITION 2 CD ALBUM
SIGNED BY PAUL DEMPSEY
Paul Dempsey's covers are a staple of his live shows. For the Limited Edition, Paul recorded four favourites that are only available on the Counterfeits and Forgeries CD.
Everything Is True
Bats
Fast Friends
Out The Airlock
Ramona Was A Waitress
Take Us To Your Leader
Bird In A Basement
Theme From Nice Guy
Have You Fallen Out Of Love?
The Great Optimist
Safety In Numbness
Man Of The Moment
Counterfeits and Forgeries
Time to Pretend (MGMT)
Heaven (Talking Heads)
So Like Candy (Elvis Costello)
Disappearer (Sonic Youth)
Exclusive Tshirt
The 100% cotton tshirt features album art and will only be available with the Deluxe Edition.
Exclusive Letterpress Print of 'Ramona Was A Waitress' Lyrics
Paul Dempsey's handwritten lyrics for 'Ramona Was A Waitress' printed on letterpress, the oldest of the traditional printing techniques. The lyric sheet (pictured) is converted into an impression, inked and then printed directly onto premium Italian cotton book paper. A high-quality, hand-crafted print.
Price: $45 + Shipping & HandlingSOLD OUT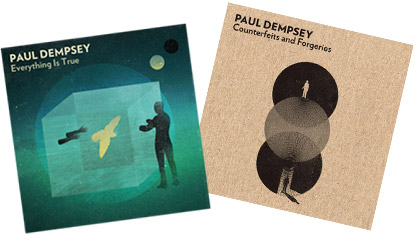 Limited Edition 2 CD Album
Signed by Paul Dempsey
If you'd like to pre-order a signed Limited Edition 2 CD set of Everything Is True and Counterfeits and Forgeries, head on over to JB Hi-FI's online store.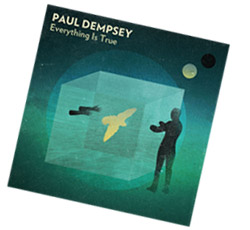 iTunes Exclusive Album
The itunes album includes an exclusive track - Paul's cover of "Sparky's Dream" - a Teenage Fanclub classic.
Album available now on itunes.